Fresh New Look
Clean, polished, functional, and awesome looking! After 6 years of the previous website, it was time for new new!
More Security
You'll be enjoying the latest and greatest shopping experience 100% secure with High Encryption.
Beat Player on Steriods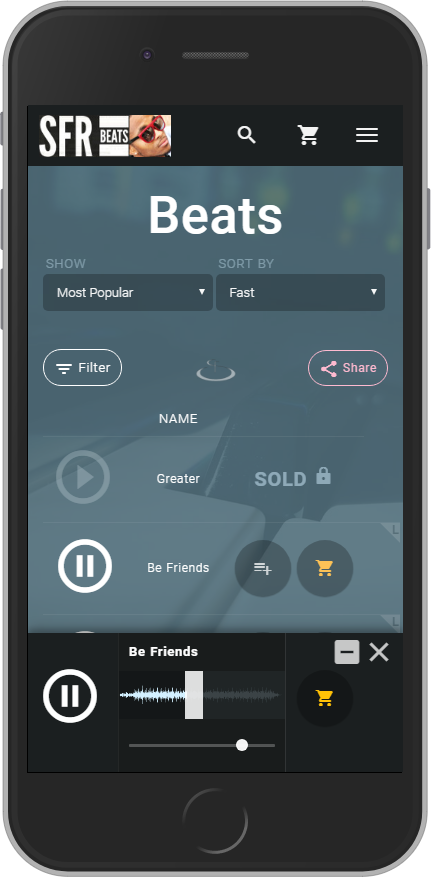 Our beats player is getting a huge upgrade... here's what you get:
Fully-Featured Player - Forward, Back, Seek, Volume
Auto-Play - Automatically plays the next beat and allows browsing without playback stopping!
Continuous Play - Browse without playback stopping!
Seek Audio - Jump to any point in the beat you want!
Better Beat Search
Enjoy new filters - search by "bpm", "key", "loudness", "dynamics" and more! Easily sort by name, or show trending and popular tracks first!
New "Beat Albums"
With "Albums", you can now create multiple playlists of beats to organize your favorites and tracks for your projects. You can buy the entire beat album with one click.. no more having to adding beats one by one! You can also easily share beat albums via email or social media., perfect for quickly sharing a list of tracks with your business partners.
FAQ
When and how long will this take?
Saturday, July 15th, 2017.. and hopefully not long.. in fact, we're 99% sure we'll be up and running later that day. Let's cross our fingers on the other 1%.
Why the upgrade?
Simply put, to make what was great even greater, secure the entire site with the latest technology, and to improve what you told us to improve. We want you to have the most innovative and pleasing website experience you have ever had. Plus, security is our #1 goal, so after 6 years of a perfect track record, it was time to upgrade to the latest and greatest. This next website will be the 4th version of our site since our Soundclick days pre 2006. Trust it will be so awesome, we may never need another upgrade! (Maybe not... but we'll see LOL!)
What will happen to my beats?
Not a darn thing... we are taking extra care to move every single beat you've purchased or favorited to the new website. We'll show you how to easily retrieve your beats once the upgrade is finished. Unlimited license holders, no sweat... you'll still be able to use every single lease beat on our site!
What will happen to my user account?
Again, not a darn thing. All of your information is safely stored on our secure servers and will be available once the new website upgrade has finished. The only thing you'll have to do is create a new password, since we can't see what your passwords are to move them over. (You'll be prompted to enter a new one when you log in. A few of you may be promoted to re-verify your email address.) Also for a few of you that have stored payment methods, you may have to re-enter those at your next checkout. That's another thing we can't see directly (for security reasons).
Any changes to my beat Subscriptions? (Monthly Exclusive License, etc..)
Nope, not at all!
So why do you have to be down at all?
We want to ensure no data is lost during the upgrade so we've decided to shut everything down temporarily while we carefully move your data and the beats over to your new site. Thanks for your patience with us.
Will prices change?
Most will stay the same but some will change for the better! We'll be adding more flexibility and options including discounted leases for just mp3, and beat holding, and, wait for it.... lower-priced trackouts!
Will lease or exclusive rights terms change?
Nope! Both rights will still be royalty-free for unlimited worldwide use forever!
I'm excited, tell me more!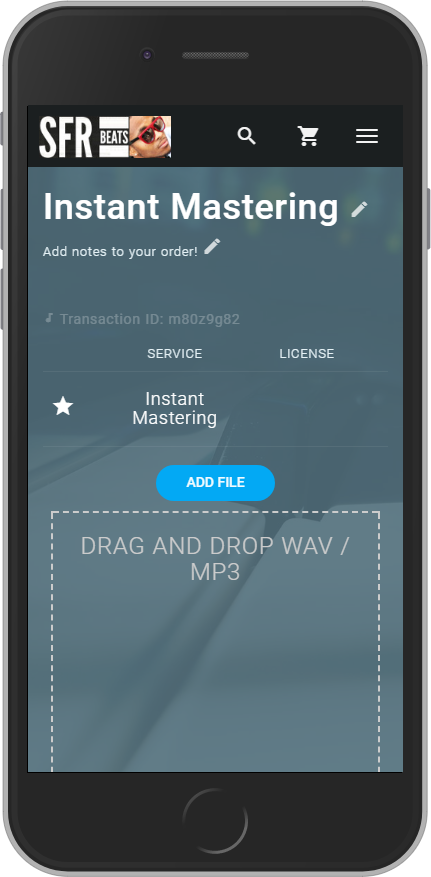 In addition to what we mentioned above, you now have the following features:
Downloadable Signed Contracts for both Lease and Exclusive! - before you got signed contracts with only exclusive rights. Now you get it for lease too!
Contract retrieval anytime online. - PDF download is available right next to your beat files.
Vaulted Payment Methods - allows for quicker shopping without having to entire payment information for than once. Easily manage your pay methods all in house. Information is stored with the world's most secure payment processor Paypal.
Android / Apple Pay Accepted - Where available
Instant Mastering Drag and Drop! - Now you can drag and drop your audio file right on our website and it will master it in minutes!
One Website Look for Web and Mobile - Now the website looks the same no matter what device you're on!
Auto Login - Log in once and that's it, at least for a long while...
Write notes on your orders - Easily label and write notes on each of your orders - great for organizing your projects!
Write notes on your beat albums - Easily label and write notes on each beat album you create!
Access order downloads from anywhere you see your beat - Whether you're in the main list of beats or on your orders page, you will see your order downloads right there, easily downloadable whenever you want!
Convenient Orders Page We wanted to take better care of our customers so we made sure to they have an orders section that easily lists previous orders, allows sorting, and download retrieval. You can even see order progress and download any files that have to be prepared after your order was made (like mixes, custom production, etc)
Choose MP3 / WAV / Trackouts right from your cart - Super simple to choose the files you want with your order. Don't need the WAV? Don't pay for the WAV. Need the trackouts? Save and buy all at once! ..Or wait and buy it separately later.. very convenient!
Awesome New Shopping Bag - The shopping bag that remembers...the shopping bag where you can buy anything... the shopping bag that never leaves you unless you say so.
Added currencies - No matter what color paper your money is, we'll accept it.
New discount system - Savings are a coupon code away..
Handy time and weather dashboard - See your current time and weather right from your home page if you're logged in.
And More... - We're sure you'll notice some more cool things about your new website... but ultimately we wanted to give you the best experience we knew how. Not only do we want you to have the best beats, we want you to have the best website too!
Special notes...
The new website is heavily Javascript. What does that mean to you? A very fast, beautifully-designed, and easy to use website - if your browser is up-to-date! Be sure you have the latest browser (Internet Explorer / Chrome / Firefox / Safari / Opera ) installed and Javascript enabled so you're ready to enjoy!
As with any change, we strive for perfection, BUT in case there are problems or issues with the new site, your feedback is incredibly important to helping us solve any unforseen problems for everyone. So we appreciate your help in getting all juices flowing smoothly!
Got questions we didn't answer?
Hit us up on Twitter @SoFoRealBeats or Facebook ...we'll be happy to answer for you. Thanks for your patience and prepare for the most awesome beat store on the planet.